Synthesia IO Review: How To Create AI Videos With Synthesia
Synthesia IO Review: Synthesia.io provides a way to turn any script or text into an AI video with multiple AI avatars. Whether you're looking for simple, intuitive explainer videos, a video to send to your company's employees, or generic video content, Synthesia lets you create a professional-looking video.
Synthesia offers business owners and businesses a unique and fresh way to create videos for different needs – video production doesn't have to be expensive and bankrupt anymore. Synthesia allows you to create stunning videos without the need for an entire video production team and expensive equipment.
In the age of the Internet, Synthesia Videos gives you the ability to create videos without having to stand in front of a camera, microphone or even a production team – they make everything for you and that's it. !
What is Synthesia.io?
Synthesia.io allows anyone to create professional and polished videos using artificial intelligence instead of their own videos. The tools included with Synthesia.io allow you to create stunning videos like they were created in a professional studio with the help of film crews and film crews. In fact, they were all created in the Synthesia studio.
Not only that, there is no need for real people in the video. Instead, you create an avatar to be the star of the show, making things as polished and professional as possible.
It would be easy to assume that all this technology and capabilities means that it takes hours to put a video together. However, the real good thing about Synthesia.io is that it only takes you a few minutes to finish your video, especially once you've done it a few times and understand how the features work.
Whether you want to create explainer videos for your products or high-quality marketing videos for your business, video maker Synthesia can help you get there. Oh and you can even use an AI scripting engine to determine what it should say.
You can use the video maker to produce high-quality videos, including:
Training videos
Product demo videos
Marketing videos
Explainer videos
Social media videos
Personalized videos
Video presentations
YouTube videos
Short videos and more
Who Created Synthesia?
This software is the product of Victor, Matthias, Steffen, and Lourdes, a group of artificial intelligence researchers and entrepreneurs from Cambridge, TUM, Stanford, and UCL.
The four people founded the company in 2017 with a mission to empower people to create a professional-quality videos without the need for a studio, microphone, or camera.
By leveraging AI, video creator Synthesia seeks to revolutionize the video content creation process and empower users to express their creative power even without any video recording or editing skills.
Who is Synthesia Created for?
At its core, Synthesia is designed for people who don't like video recording. I'm talking about people who don't like creating a professional video, a time-consuming and sometimes complicated process.
It will also be useful if you are looking for a tool to create professional videos without showing your face.
Many people don't want to show their faces in videos because they're uncomfortable with that and that's okay – luckily we have tools like Synthesia.
Let's say you are a marketer. In this case, you can use the software to create high-quality marketing videos without sitting in front of the camera or spending hours perfecting the footage with a video editing tool.
What Synthesia can do, is ideal for all business sizes and users, including
Digital marketing companies
Online stores
Bloggers
YouTubers
Realtors
Course creators
Freelancers
Video marketing agencies
How Does Synthesia Work?
While you can start completely from scratch, Synthesia offers a variety of video templates. You can find colorful and creative designs or more serious and minimalist designs. All models presented on Synthesia are fully customizable.
Once you've selected your video template, you can choose your avatar. Avatars come in a variety of ages, genders, and ethnicities. You can choose an avatar wearing a variety of costumes, from a scientist to Santa Claus. You also have the option to upload your own custom presenters for an additional fee.
Your next step is to insert your video script. Synthesia offers a wide variety of languages, including dialects from different countries. Simply paste your video script into Synthesia's text box and choose your language.
Synthesia also offers different tones that can be used to read your script, such as calm, excited, and neutral. You can choose the color tone that best suits the type of content you want to create.
You can end the video by choosing a background for your profile picture in front of you. You can also add music, text, subtitles, and images such as your logo.
What Are Key Features of Synthesia.io?
Synthesia boasts a collection of features, all designed to help you create videos in minutes, including:
AI Avatars
This feature allows you to choose an AI avatar from over 50 pre-installed avatars or create a custom avatar. Custom avatars are useful when you want to create personalized videos.
Alternatively, you can use your voice to accompany your own avatar. One of the significant benefits of using a custom avatar is that you can create personalized marketing videos to match your brand voice and assets.
At a time when video marketing is vital to business growth, Synthesia's custom avatars couldn't be more timely.
AI Voices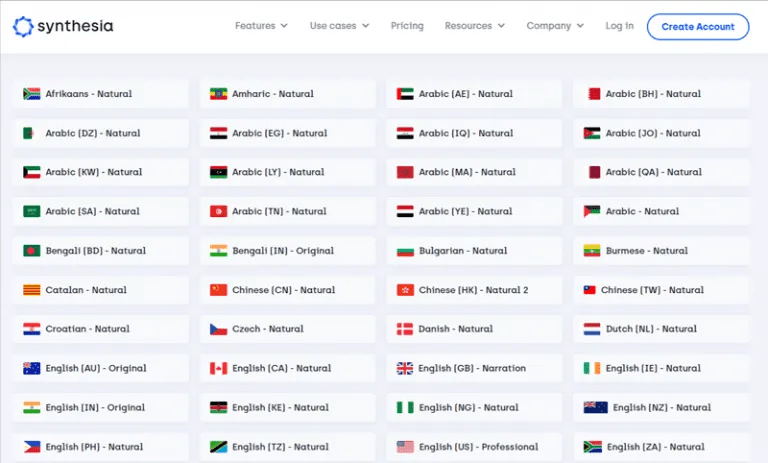 AI Voices allows you to create explainer videos so that your target audience can easily hear and process the information.
Additionally, it allows you to create AI-dubbed videos that can explain what's going on so viewers can better understand the message you're trying to convey.
Statistics show that 96% of people watch explainer videos to learn more about a product or service. Voice AI is a text-to-speech feature that provides voiceovers for your texts in over 60 languages.
With such flexibility, you can reach an international audience with relative ease. You can also localize your video content to scale.
Video Templates
The built-in video templates are one of my favorite features, especially if you want to create professional-looking videos in minutes.
The platform comes with over 40 templates. And the beauty of it is that there are templates for you to create all kinds of videos ranging from tutorials, promos, PowerPoint slides and multi-slide videos, and more.
Video templates are quick, easy to use, eye-catching and fun to use. You can even create custom wallpapers and screen recordings.
If you must follow branding guidelines, then you can take advantage of Synthesia's video templates to create consistent videos from the start.
Editing Studio
Video editing can be tedious, especially if you don't have the right skills or equipment. Synthesia studio makes video editing easy with intuitive tools. The editor allows you to edit the video script, change the language, add background music to the content, and choose your custom avatar.
Besides, you can use Synthesia studio to record yourself and the text-to-speech feature to customize the video creation process. I also love that the editing studio is beginner-friendly, making it easier to create professional videos.
Other notable features include:
Media Assets: Gives you access to over a million resources, including free images, shapes, videos, GIFs, and more.
Screen Recorder: Allows you to create your own AI video on the screen directly from the app.
Closed Captions: This allows you to download subtitles with just one click.
Upload Brand Assets: Allows you to upload copyrighted material, including your fonts and logos. You can also change the colors and customize the video to match your brand guidelines.
Background Music: Gives you access to free music that you can use in the background when creating videos. You can also upload your own tracks.
Easy Updates: Allows you to clone your videos, edit and create new high-quality videos in minutes.
Video Embeds: This allows you to embed and update your own AI videos in over 30 apps with a single click.
MP4 Downloads: Allows you to download your videos in Full HD (1920 x 1080) resolution.
How to Use Synthesia.io to Create Videos?
Synthesia is quite simple to use. You don't need any prior skills to edit or create videos using this platform. As I said, the software lives up to its promise of helping you create your AI video in minutes.
Just upload your script to the system and let the video creator take the script from there. Or, you can choose and customize your AI avatar according to the personality you want it to display.
Synthesia AI will animate your avatar based on your voice acting. That said, here's how you use Synthesia to create your own AI videos with custom AI avatars:
Step 1 – Pick Your Template
Start by choosing a free video template. Choosing a template depends on the type of AI video you want to create. Your video can be a YouTube, product, sales, tutorial, or training video.
The platform offers more than 25 pre-built templates to help you capture your video footage in no time. You can also create your own templates if that's essential to help you create more personalized videos.
Step 2 – Edit Your Video
Here, Synthesia AI video maker allows you to upload your script. The most important thing to note is that the video editor allows you to upload scripts in multiple languages.
Step 3 – Pick Your Avatar
Video maker allows you to choose your ideal AI avatar from over 50 avatars. You can even choose your AI presenter to create your own videos.
Step 4 – Publish Your Video
Now your video is ready to publish. All you have to do is post it on your favorite social media platform for your audience to see.
Synthesia Pricing
Synthesia pricing is structured in two tiers as follows:
Personal Plan: $30 per month billed annually
Corporate Plan: Pricing depends on your organization's needs. Contact Synthesia for pricing.
Create Your Synthesia Account
Here's what you get with each pricing plan
Personal Plan
10 video credits / month
60+ languages
65+ built-in avatars
50+ templates
Custom backgrounds
Background audio
Built-in screen recorder
MP4 downloads
Video sharing pages & embeds
Add text, images, shapes
Free stock images & videos
Import PowerPoints
Up to 6 slides per video
Paid add-on custom avatars
Corporate Plan
All Personal plan features
Up to 50 slides per video
10+ Premium built-in avatars
Premium Shutterstock assets
Over 1M royalty-free images and videos from Shutterstock.
Custom background music
Priority customer support
Audio uploads
Access to premium services
Branded video share page
Custom fonts
Strategies YOU Can Use to Earn Money with Synthesia
Apart from allowing you to create videos for your business or personal use, you can leverage the platform's capabilities to earn money on the side.
Below are some strategies you can implement to make money with Synthesia:
Create marketing videos for business
Create training videos for coaches
Create AI videos for social media marketing in multiple languages
Create product videos for companies
How much money are we talking about?
For starters, "real artificial video" can cost anywhere from $2,000 to $7,000 for every two to three minutes.
Since you don't need a camera, microphone, camera crew, or audio equipment, you can charge between $7,000 and $5,000 for a video made with Synthesia IO.
Of course, the amount you charge to create a video using the AI ​​system depends on the length of the video and the amount of work you need to do before uploading the script.
And the beauty of that is that Synthesia can create an AI video in minutes after you feed it the necessary information.
Speaking of making money, check out my list of 37 Highest Paid Affiliate Programs to Advertise and Generate Additional Income.
The Synthesia Academy
As I wrap up my review of Synthesia IO, allow me to give you an overview of Synthesia Academy. You don't have to be an expert to use video creation software. I find this AI tool quite easy to use.
There is, however, a small learning curve, especially if you want to accomplish technical things like background video looping. In addition, you may encounter some problems when using "background changer" or creating Figma videos. To ensure that you get the most out of this AI engine, the developers created the Academy to get you started right away.
Synthesia Academy includes tutorials, trending lessons, beginner courses, and recorded webinars. My favorite Academy classes include:
Figma Lesson
HubSpot editing
Content choreography
Video frame
Introduction to visuals
At the end of each lesson, there is a video for different use cases to help you understand how you can implement what you have learned.
If you're having trouble using the platform for the first time, I recommend checking out Synthesia Academy to help hone your skills.
How To Use Synthesia IO For Free?
If you want to test the waters before committing to a paid plan, you can create your own AI videos for free with the demo option. Simply choose a free video template from five available templates and enter up to 200 characters of text in the video script box. You will then receive a free demo video by email. This allows you to see what the software has to offer and whether it's something you can use.
What Is The Pros And Cons of Synthesia AI Video Maker?
Pros
Videos can be created in several languages
No video editing skills are required
No need for extra equipment for filming
Create videos without worrying about lighting and backgrounds
The finished videos look extremely professional
Create high-quality videos in multiple languages
Add things like fonts and text to customize your video
Easily add voice-over to your video
Cons
Some worry that videos won't look original if too many people use the same avatars.
The personal plan has a 10-minute limit on video length
Certain voices can sound a little robotic
Is Synthesia Worth It?
Synthesia allows companies to create high-quality videos for as little as £23 per month. It's much cheaper than hiring actors, studios, videographers, camera equipment, editors, and all the other professionals needed to create a professional video.
It also saves companies considerable time. Videos made on Synthesia can take a few minutes to complete from start to finish. Even if you have absolutely no video editing experience, the software is incredibly intuitive, and Synthesia's website features easy-to-follow YouTube clips that explain each step of the process.
Synthesia is a great tool for small businesses, social media managers, marketers, or any digital business looking to create high-quality videos on a budget. They currently offer a free demo video, so you can try it out to decide if you want to commit to the monthly plan.
Can I use Synthesia videos on YouTube?
Once you've created your Synthesia video, it's up to you where you choose to share it, so you can share your Synthesia video on YouTube. The great thing about this software is that you can create any type of video you want, so there are no limits.
If you already have an audience or idea of ​​content that YouTube subscribers might want to see on your channel, then you can use software to create it.
In fact, when you start using Synthesia IO, it will ask what kind of video you want to create so it can help you with template and avatar recommendations. At this point, one of the options it gives you is to create a YouTube-specific video, so the whole process is made as quick and easy as possible.
Can you monetize video reviews?
In short, the answer is yes. There's absolutely no reason why you can't monetize the videos you create with Synthesia IO. In fact, having them help you create such smooth videos can be a big plus for creators who want to use videos to make money. How you monetize your videos will depend on you, your business/side job.
For example, you can rate products and earn affiliate commissions from anyone who buys them through your link.
You can also create marketing videos for your own business, whatever your niche.
The fact that videos can be created quickly and easily while giving you great results is reason enough to invest in this software.
Final Thoughts About Synthesia AI
Synthesia.io has many strengths in terms of the quality of the video you can produce, the wide range of available voices, the user-friendly interface of the application, and the customer support that you can contact if you need help. help in any way. of their site.
The company is on a mission to enable companies to produce and scale content with media players without the need for large-scale production teams and expensive audio and video equipment.
You can reach and create content for audiences around the world using the many voices and languages ​​they offer – many customers agree with their 5-star ratings.
Synthesia is great for business owners, entrepreneurs, social media managers, marketers, or any digital business that wants to use professionally created media without spending thousands of dollars. la for the production team.
If you need a sign that you should upgrade your marketing video production, Synthesia is it. You can import your brand logo along with your business plan, or you can always upload your media with a personal project.
You can use Synthesia to create professional videos for your next marketing campaign, employee training day, or social media post – and create AI video content anywhere in the world without a big budget.
Frequently Asked Questions About Synthesia IO
Does Synthesia AI Work?
Yes, it keeps its promise.
You see, Synthesia is taking advantage of the fact that video creation in the future will be AI-driven. With the AI ​​market expected to reach around $125 by 2025, it is only a matter of time before we start to see more and more business benefits for AI-generated videos.
Meanwhile, users are reporting the success of Synthesia. The tool has an impressive 4.3-star rating on Trustpilot. Here's what Alexander had to say about using the software.
"The best text-to-speech product on the market
I've been using Synthesia for five months now and I love it. There are a lot of new features and this is definitely the best text-to-speech product on the market. I can't wait to create my own personalized avatar soon."
He went on to rate it 5 stars. The thing is, Synthesia wouldn't have received such positive reviews if it hadn't lived up to its promises.
Is there a free version?
Unfortunately, they don't offer a free video creation plan.
On the other hand, Synthesia is reasonably priced.
I love that you get so much done making videos for just $30 a month. In fact, the price seems like a bargain to me, considering what you can do with this tool.
When you think about it, Synthesia is a solid product that makes video creation easy and affordable.
And, as I mentioned earlier, this tool delivers on what it promises, so you can be sure you're getting what you pay for.
Are the Avatars Real?
According to the developer, yes, the avatars used in Synthesia AI's video creation are all based on images of real actors. However, the company did get the actors' consent to use their avatars.
I find that fascinating, that's for sure. How cool is it to know that you're creating a video with avatars created by real people?
I see this as a strategy to bring more "life" to your AI videos. Additionally, avatars make it easy for your target audience to interact with your audience and, by extension, listen to your message.
It doesn't get any better than that!
Can I use Synthesia IO for YouTube?
Yes you can.
You are allowed to upload footage made with Synthesia to YouTube or any other website.
Best of all, you can distribute all the videos you've created with Synthesia without worrying about legal consequences.
How much does Synthesia cost?
Synthesia is available at an introductory price of $30 per month per seat. With this plan, you get 10 video credits per month.
There is also a business plan that is priced to suit your specific needs and the size of your business. The business plan offers more features than the basic tier plan.
People Also Search For: synthesia io review , synthesia download, synthesia free, synthesia demo, synthesia ai, synthesia tutorial