Simple makeup is honestly the best answer to three simple questions. You want the makeup to bring out the natural beauty that every woman has, but not be overly flashy or draw too much attention.
Pick a foundation that matches your skin tone so you don't come across as a two-tone woman – neck one color, face another. Also, try using a matte powder so that you don't become oily or shiny throughout the day. 
Sometimes work can be stressful and when you start to sweat you don't want to lose your look. Apply the powder on top of your foundation or instead of it.
Your eyes are important – enhance them, but don't go overboard. Again, try to stick to more neutral, skin-tone colors. This would include light bronzes, nudes, browns, lighter pinks, etc. 
Now, I know you want to bring out the color in your eyes with those bright colors, but you can get the same effect using pastels of those same colors.
Again on the eyes, mascara is a must and some eyeliner never hurts. Black eyeliner is typically seen as a "no no," but I don't see the harm in it as long as it does not appear harsh against your skin tone or you do not apply too much. 
Sorry my lovely fair and pale ladies, but you should avoid black eyeliner in the workplace. Brown eyeliner is always safe, but again, never too much! And, again, mascara is a wonderful product because it brings out your eyes without adding too much making you look professional, yet feminine. 
Don't forget to line your brows if you have thin ones like me. Pick a brow-liner that is the same color as your hair and try to stay within the bounds of your natural ones.
Blushing is always a good thing, but like I've been saying, don't put too much on and avoid glitters. Some lighter nude/pinks are perfect on the apples of your cheeks and across your cheekbones. 
This will create a highlighted effect that will look beautiful under those harsh office lights. A quick swoosh of highlighter in the tops of your cheekbones never hurt either
Color on a woman's lips is one of those subtle things that makes a big difference. Depending on skin tones, a light pink, nude rose, or coral brown would be a perfect accent to your wardrobe. 
Look for lipsticks with words such as 'creamy,' 'nude,' 'sheer,' 'cool,' and 'warm' as they tend to be softer and more professional. Top off your lip color with some clear gloss for a little shine and you're good to go.
THINGS TO AVOID
Now that you know what to look for in your workplace makeup kit, these are things you should avoid. These types of products or colors tend to make you look showy or unprofessional and may even prevent you from being taken seriously amongst your colleagues.
Try to stay away from those fake looking bronzers in the workplace or tones that are too dark or too light for you. Bronzers make you look like you are attending a

fashion show

and the wrong color can make you appear washed out or too unnaturally tan.

When it comes to eye shadow, avoid bright rainbow colors and shimmers because they make you look overly glitzy. You're going for professional, not high fashion. Blues and greens always tend to stick out regardless of what skin tone they are applied to, so you may have to pass up on those colors.

The rule with eyeliner and mascara is just not too much, but don't use fake lashes in the workplace. Outside of work, those puppies are beautiful, but in the office they just seem like too much.

Steer clear of bright blushes, especially those with a ton of shimmer or glitter involved. Bright or deep pinks and reds can make you look strange in a whole new way. 
Anything from sun burnt to clown-like, but none of them are good. With the shimmer and glitter, it just appears very reflective under office lights and may make you appear greasy.
Lips – stay away from using bright colors or those colors that aren't a semi-natural shade (this would include purples, blacks, oranges, etc.
You don't want people staring at just your mouth as you talk, especially if you are giving a presentation – it can be distracting.
HOW I DO IT
These are the steps I take when I am applying makeup for an interview or a meeting. I have always found it helpful to know how someone else does something and I hope this helps you.
Apply skin-tone concealer under the eyes, on the eyelids, and on blemishes. I find dabbing lightly with your fingertips to be the best applicator.

Apply a thin layer of liquid foundation over the entire face and slightly down around the jaw-line. This way you don't get that line you see on women sometimes at the bottom of their face.

Use powder on the entire face other than eyelids to get the foundation to "stick."

Line brows with liner. I fill in natural brows and then extend them slightly on the ends to create that very structured look. I also use a brow gel to keep all the hairs in place throughout the day.

Apply eyeshadow. This can be done in many different ways. I apply a nude color to the lid, a highlighter color to the place under my brow, and a slightly darker color to the crease. You can buy palettes of eyeshadow with this exact layout to make it easier.

Line the top of my eye and the bottom-outer third. This doesn't appear as too much, but does make your eyes look bigger and brighter.

Apply mascara to top lashes and the bottom-outer third. You want to place the mascara where the eyeliner is because it enhances the effect of the eyeliner.

Apply blush to cheekbones. Apply one shade darker blush right under cheekbones. Dust highlighter on the top of your cheekbones. If you have even heard of contouring or shading your makeup – this is it in a simplified form.

Apply lipstick and then clear gloss. Sometimes I line my lips with a shade that is slightly darker than the lipstick I choose, but sometimes that can look like "too much."

Walk out the door and into the office – just don't forget to smile by following these tips and guidelines and utilizing my makeup steps, you should be able to wear makeup in a professional way while still looking beautiful and feminine. Good luck out there.
What should I wear for office work?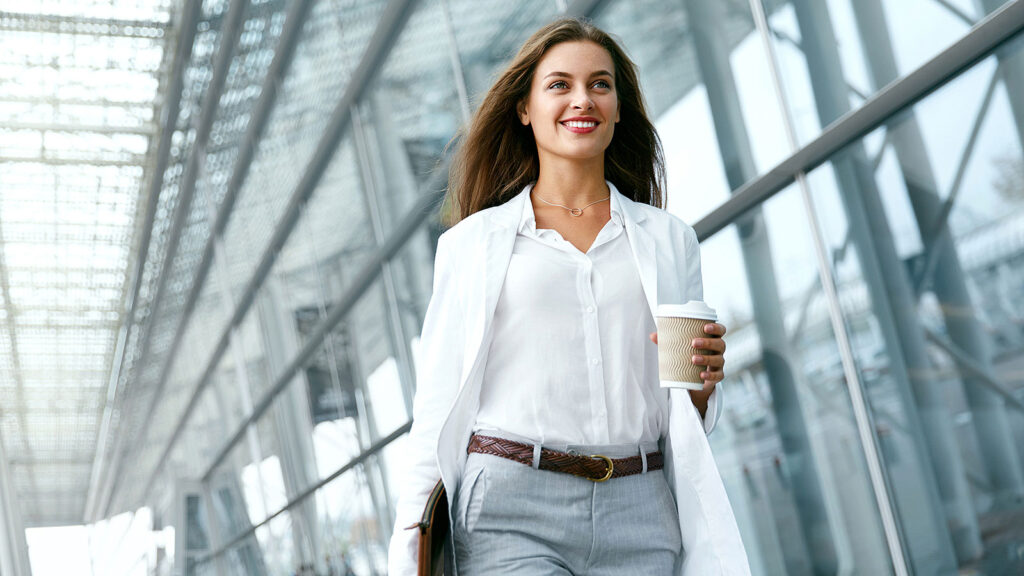 Forget about the uncomfortable business shirts and choose either the high necked or plummeting and soft collarless tops for a sensory Mediterranean temperament. 
You can easily drop into a fashion rut at the office, but we have brought some inspiring ideas that will become wardrobe staples for you that you can share with your co-workers. 
It doesn't matter if your office accommodates casual, formal or a creative look, you will find some great ideas here.
If the office culture is more relaxed or strict, you have to work with certain pieces and maintain the rules of the office, but there are general fashion rules that you should always adhere to.
What to wear at the office?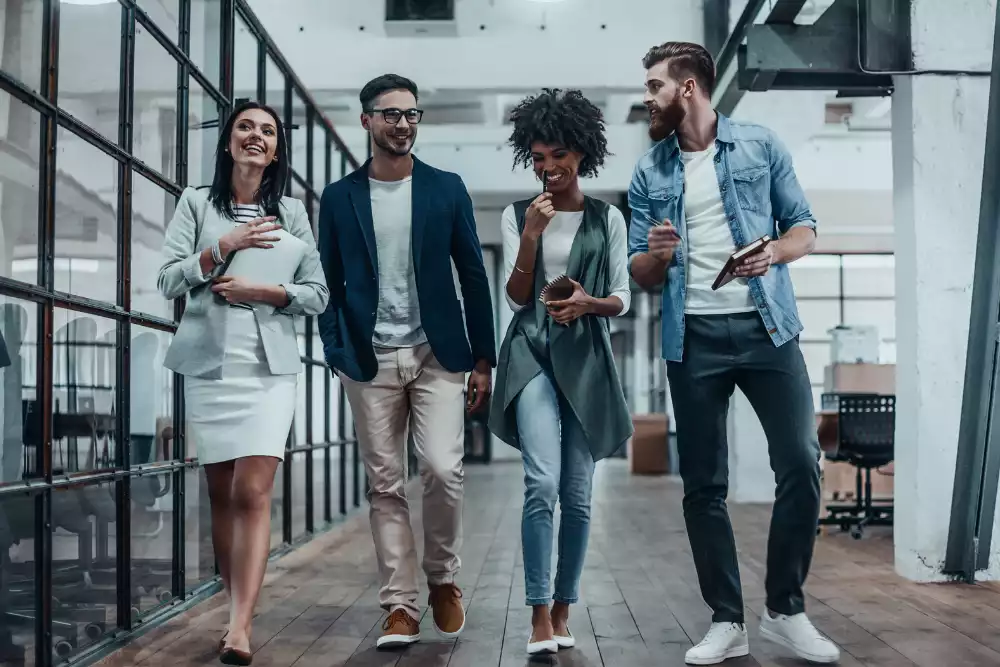 The customary two-piece attire is typical of office wear. If you don a well-tailored jacket with corresponding pants or a skirt, you will always be considered cool. 
Even if you depend on one as your daily solution to dressing for the office or you think of it as an occasional choice, a suit is a definite must. It has never been out of the fashion arena and there is a reason why.
Suit trends have changed from drastic sizes with large shoulders and slouched cuts, to lean and tailored lines. It can give you the self-assurance that you need in the office to do your job well. You will look polished and fearless. 
Everyone has a suit that flatters their physique, but if you choose the classic look, you won't go wrong. Although the pantsuit can be quite characteristic of elegance, you would be so astonished at how many different ways you can wear it.
Here are some examples:
Wide legs

Slouched style

Modern look

Sleek outline

Retrofit

Pinstripes like the ones worn by many bankers

Checkered

Traditional tweed that reminds you of the English countryside In the meantime, a simple suit can become that blank canvas to form your own style. Choosing the look that makes you comfortable and is the most suitable for work is the important thing to consider. 
No matter which style of pant suit you choose, you should ensure that this manly cut is balanced with a touch of femininity, which means you can add a ruffled top or a distinct waist. Never leave your sex appeal out of the mix.
A matching jacket with a skirt provides the ideal balance between a serious look and a feminine one. This also gives you many style options such as a boxy shaped tweed suit that carries the retro look. 
When you begin hunting for the right ensemble, you should first begin with the hemline of the skirt. Start from a pencil to a pleated hemline and then work from there. If you opt for a fuller looking skirt, then you should wear a fitted jacket.
If you choose a peplum jacket, be sure you select a body-sensible skirt to complete the outfit. Wear skirts an inch above or over the knee.
Wearing the right dress
Consider wearing simple and comfortable shift dresses, well-designed shirt dresses and belted dresses. Stay away from tight dresses in knit material. Wear neutral and dark colors such as navy blue, beige, brown and black. 
Pick the dresses that fit your body type. If your personal taste is conservative, choose a cardigan or blazer to wear over a sleeveless dress.
The sky's the limit to what you can wear at the office. Your options should be chic, stylish and appropriate. You should keep the rules of the office by wearing clothes that you like, but refined enough to please your boss.
Top 5 Fashion Tips For Office-going Women
First impressions mean a lot most especially when in the business world. Appearance is the first article people see. Assumptions are often made on personality and ability in just a few seconds.
Knowing how to dress for work can be overwhelming, especially for women. This is because women's business attire has a wider range of choices than men. Style, colors, fabric, accessories and make-ups should be considered. Many women fail on these and make poor choices.
Getting dressed for work doesn't mean leaving the personal style. Just keep in mind to dress professionally rather than trendy. As a corporate woman, I dress simple and elegantly.
Tips on how to dress professional in a fashionable way
Colors
Color plays an important part in professional image. Traditional colors such as gray gives an impression of conservativeness, black signifies chic, navy blue means trustworthy and red connotes aggressiveness. 
On the other hand, aqua or pale blue and dusty rose shows feminine yet authoritative. The color white leaves an impression that the person has a desire for perfection and intricate ideas. Brown means honesty and wholesome or practical.
It is advisable for solids like the five basic shades which are black, brown, navy, gray, camel or white when it comes to selecting suites, pants or skirts. Preferred colors can be worn on a day blouse.
Most women choose colors on their blouses in a complementary to their hair, complexion or mood.
Shoes
High heels are nice and fashionable; however, beware of the narrow stiletto types. These are not only inappropriate but they can be very uncomfortable. 
Walking, climbing stairs and standing for long periods of time during busy days should be considered. And no one would want to end the day having sore toes, calluses and corn. 
Also avoid wearing open-toe shoes and sandals for they are inappropriate too and in fact, most companies prohibit wearing them. Definitely no athletic footwear and most of all, never wear worn-out shoes.
Wear shoes that are stylish and yet appropriate in a business attire. It is advisable to wear wider and thicker types of hills to give your feet support and comfort.
Accessories
A confident woman does not need to wear a lot of jewelry. Wearing too many accessories could draw negative or excessive attention causing distractions and intimidation to other people.
It would be perfect to wear stud earrings and a simple necklace. A silk scarf would also give the business outfit a polish look.
Makeup
Women should be careful when putting on makeup. Heavy makeup may cause unwanted impressions and attention. Keep the makeup light as much as possible. Go for natural colors to achieve a fresh look.
Bags
Choosing the right kind of bag is significant in expressing personality. A slouchy bag looks sloppy. Bags should be elegant, however should project a well-organized image. 
Choose a bag that has a lot of compartments to fit any paper works and personal things as well.
Some women prefer to have a Coach bag where they could put their personal things like make-ups and perfumes. Laptops and other paper works could perfectly fit inside this type of bag.
First impressions are very important in the business world. Be careful on how to dress for it takes only a few seconds to create a lasting first impression. Be careful in selecting dress colors and shoes to wear, accessories, makeup and bags.
It is important for corporate women to dress professionally and at the same time express their personalities and fashion senses. Their attire should project a smart, intelligent, competent and organized image.